A visit to our famous Elephant Bar is a must during any trip to Phnom Penh. If not simply to taste some of the finest spirits, wines and beers Southeast Asia has to offer, but to soak up the atmosphere of a legendary bar that has witnessed the merriment of the many prominent public figures who have enriched the fascinating story of our hotel.
Take time out from your day in a comfy leather couch, with a refreshing drink in hand. This is your chance to try the Femme Fatale, our signature cocktail created for Jacqueline Kennedy during her visit – and our version of the Singapore Sling. Tapas and light meals are served all day in the delightful dining area or out on the balcony overlooking the tropical gardens.
Look up to see colourful frescoes depicting leafy scenes and majestic elephants. Wander around to peruse portraits of famous past residents who have graced our bar stools. Feel a part of something grand when you come to the Elephant Bar, and write your own part of our unique story while you're here.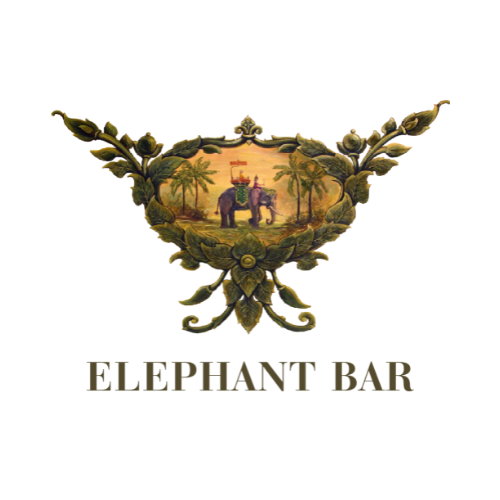 Opening hours
Opening hours
Monday – Sunday
Bar
3:00 PM – 12:00 MIDNIGHT
Afternoon Tea
3.00 PM – 5.00 PM
Happy Hour
4.00 PM to 9.00 PM
Cuisine
Drinks, Tapas and snacks
Address
92 Rukhak Vithei Daun Penh, Sangkat Wat Phnom
(Located next to the main building, accessible via the main hotel entrance)
Dress Code
Smart Casual
Gentlemen are encouraged to wear collared shirts and trousers with appropriate footwear and dress shorts will be allowed during Gin Buffet. Ladies may be dressed in dresses, skirts or trousers with appropriate footwear. Slip-ons and flip-flops are not permitted.
Contact us
855 23 981 888
dining.leroyal@raffles.com
View website
Gin Buffet
The Elephant Bar at Raffles Hotel Le Royal offers 50 labels of gin to be enjoyed, including the iconic Sipsmith Raffles 1915 as well as the bar's very own locally-crafted Elephant Bar Gin. Your Gin exploration awaits in Phnom Penh.